Details
Commission Junction (4/5)

Maximize your revenue opportunities by developing sustainable relationships with top-tier advertisers. Perform and get paid for every sale and lead you generate. For qualifying publishers, take your program to the next level with our industry exclusive solution for top performers. Join our unparalleled Affiliate Network of publishers and learn more about our commitment to the long-term success of top-performing publishers within our Affiliate Network.

Affiliate Window (5/5)

Affiliate Window handle over 750 merchants, ranging from blue-chip brands such as Dixons, Boots and Vodafone, to niche specialist retailers looking to grow their online presence. The network is committed to developing market-leading technology to assist the performance of both merchants and affiliates.

Since 2000 Affiliate Window has been dedicated to the growth and development of the affiliate market place, in particular ensuring affiliate marketing becomes part of an integrated marketing mix for all merchants. We recognise the importance of generating incremental growth for our merchants, whilst ensuring our affiliate partners have the best possible tools and services to succeed.

Affiliate Window has over 75,000 registered affiliates in the UK. They range from niche content sites, with discreet audiences, to major shopping comparison sites and incentive scheme operators.

Affiliate Future (5/5)

There are no set-up fees for becoming an affiliate with AffiliateFuture. It's simple to get started, enter your details, subscribe to the programmes offered by Merchants, add them to your site and start earning today.

Webgains (3/5)

Weekly Payments. Manage all your affiliate sites/campaigns from one account. Comprehensive datafeeds and content building tools. Manage performance with our unique real-time and scheduled reporting tools.
What is affiliate marketing
Affiliate marketing is a method of promoting online merchants in which the affiliate can be rewarded for generating actions for the merchant. The nature of the action is predefined by the merchant and can be in the form of a sale, subscriber, customer and/or unique visitor. The merchant also defines the reward system, which can be based on a sale, lead, impression, visit/click, or any combination of these.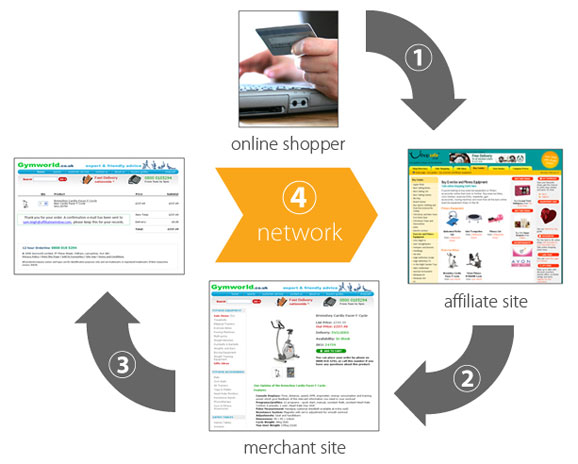 The basic concept
The idea of affiliate marketing is that merchants reward affiliates who promote their business. The reward is often a share of the merchant's revenue from a specific transaction but can also be a set value. What differentiates affiliate marketing from other types of online marketing is that merchants only pay for the positive results of the affiliate's efforts. That is to say, merchants will only reward an affiliate if traffic (visitors) driven to the merchant from that specific affiliate resulted in a valid transaction, lead, subscription or any other activity desired by the merchant. This is made possible by the technology that allows a customer to be tracked through from an affiliate's website to a merchant's website and the merchant's checkout.
It is important to recognise that the affiliate marketing model is fundamentally a way of increasing actions on the merchant's website. It should not be considered as a method of increasing traffic or creating brand awareness for merchants. This is because any payments to affiliates stem from actual, valid actions. Therefore we must recognise that there is little to be gained by delivering a large number of impressions and clicks to a merchant if they are not suitably targeted, as they are not likely to result in a sale. Merchants, of course, can benefit from as much free exposure as possible; but from an affiliate's point of view, it is important to concentrate on promoting merchants to the right kind of visitors.